When I was a little girl, I looked forward to picking blueberries every July. My mom and I would get up early and go out, filling up a bucket or two along the way. I'd always come home with a tummy ache from eating way too many. When we got home, we'd wash them and freeze them for eating throughout the year.
Well, I hope to continue this tradition with Little K. And we're starting early.
Last week, my mom, 3-year-old nephew (we'll call him Little O) and Little K and I picked blueberries in the sweltering heat at the place where I grew up pickin' – Hazen's Farm in Howell, Mich. The berries were looking pretty good.

Little K watched as we went up and down the aisles looking for the fattest and bluest berries hidden in the bushes.
Little O kept sneaking the berries before we could rinse them with water. I caught him and got a goofy grin.
But, he was such a good helper and grandma was proud.
We didn't last long in the heat, but we did get 6 pounds of berries, and most importantly, started a fun tradition I hope we continue for years to come.
Does your family have a summer tradition? Please share in the comments!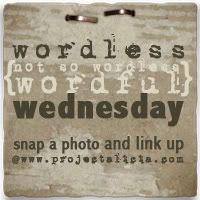 This post was linked up for Wordless Wednesday. To show your own photo love, visit Project Alicia.