The princess craze is something that has taken America by storm. While I'm all for Disney and imagination and fantasy, I also struggle as a mom who wants my daughter to be a realist, too. After having a very hard time trying to find toddler bedding for my little gal that isn't princess-related (or any character for that matter), I read a great article in our local paper, the Detroit Free Press, which highlighted princess parties and the positives and negatives of the "happily ever after" mentality. This is the message I hope to pass along to my daughter.
Dear Little K,
The term "princess" will never be a pet name I have for you.
Princesses are not real.
You do not see princesses fail, or break bones, or be single mothers.
Princesses are never curvvy, or even chubby for that matter.
Real girls have faults and scars and worries and burdens.
Real girls experience pain and heartbreak.
Love and marriage aren't simple. It's not all butterflies and hearts and flowers, like many princesses portray.
Men don't always come to your rescue. Love is complex and something to work on.
I want your heart to be full of love….for others, but most importantly, for yourself.
Will I let you watch Cinderella, Snow White and Beauty and the Beast? Absolutely, and I hope you enjoy them as much as I do. But you bet we will have some discussions about them after and what makes these fantasy characters shine: Their ability to be kind and always help others.
Will I allow you to wear a crown if you'd like? Of course, but as long as you know it's what's inside of that head that matters — and not what's visible on the outside.
Beauty and material things will fade.
Friends may come and go.
But, your family — we're here for you always.
So while you will never hear me call you princess, I will call you a few things: My love, my life and my beautiful and intelligent daughter.
Hope that's OK with you.
Linking up (for the first time!) with Shell at Things I Can't Say.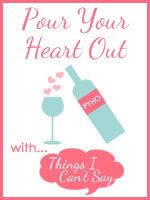 What is your take on little girls and the princess mentality — harmless or harmful?